List of meals. One meal per post.
Ground beef and pasta in tomato sauce
Fry 2 flats of ground beef in pan. Each flat needs to be done individually, otherwise the pan is overloaded and it's too hard to mix and cook evenly.
Boil pasta.
For Lancia Spaghettini, about 450 g of in the big pot with excess water. if you try to cook more than half a bag in one go, the starch causes the pasta to stick and burn. Drain well. Do this twice.
For Penne, 300g is sufficient.
Stir regularly to prevent sticking.
Mix in two 398 ml cans Hunt's Tomato sauce.
Mix in about a quarter bag (refine) of Brocolli slaw.
Pour equal volume of frozen vegetables into a mixing bowl
Makes about 4 or 5 servings.
Kale soup
540 mL can of either black or mixed white bean medley. Rinse well.
One 500g bag of chopped frozen kale.
2 Bouillon cubes, crushed by hand
Water (refine).
Soup setting on instant pot (11 minutes).
Parboiled white rice in the instant pot
380g rice and 400g water.
The rice I use is, from safeway.
Use rice setting, normal size. Mix in margarine.
Tested, works.
Tried doubling this recipe, some 800g rice and water, and vented at 15 minutes. Wasn't fully cooked - needed to probably increase the water slightly and also leave the lid on until it cools naturally.
Basmati rice in the instant pot
Got a sack of No Name basmati rice.
Added 2 cups rice to 2.5 cups water in the instant pot, Rice mode, Normal. Waited until the pressure was fully released.
Turned out great.
(I wanted to switch away from parboiled because of the high glycemic index. But in fact parboiled and basmati are pretty equivalent.
But, typically, having the parboiled version seems to be nutritionally superior and lower in GI compared to the raw form.)
Quinoa in the instant pot
375g rice / 375g water, rice setting this did not work.
According to this site
Ratio = 1 part quinoa : 1 ½ parts water
Cook Time = 3 minutes
Release = 10 minute natural release, then release any remaining pressure
Put in 2 cups quinoa, 3 cups water. Pressure Cook, 3 minutes, High.
A little mushy, not totally satisfied.
Ground turkey stir fry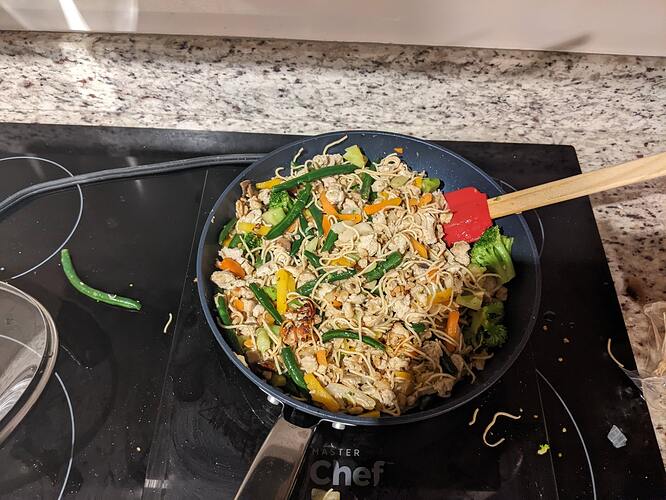 Split up one flat (500g?) of ground turkey, fried it in two batches.
Cooked a whole bunch of frozen veggies, maybe 3/4 of the orange tub for ~8 mins in the microwave.
Add ~4 blocks of stir-fry noodles, a little water, maybe a little margerine. Putting a lid on is helpful.
Got three meals for $6 (on sale, 2/$12) in turkey! Very good stuff.