Mazda Mazda3 's' Grand Touring

Listed for $12900, final price $12500. 3900 km to oil change.
bought from Madadi auto sales ltd. great guy.
Had to register in alberta on sunday.
Taradale registry
5850 88 Ave NE #5120, Calgary, AB T3J 0Z7
insurance wouldn't give you a
Mazda 3 2016 abs module leak
The abs module in the front left side of the hood had a small leak from two stainless steel brake lines. presumably this side had been in an accident and the module was replaced and not properly tighened. Stainless steel tubing. 10 or 11 mm metric flange wrench tried.
Leaked again. Back to heated car wash
Princess auto flange nut to 3/8" ratchet extension to ratchet really improved access, tightened it right up. Need booster on to see leak I think.
Took to canadian tire for out of province inspection.
Rear washer
rear washer didn't work. According to service manual, single motor for both front and rear. Polarity to the pump motor is reversed (h-bridge?) to select.
Thought there was no nozzle in the back. Bought a 10 mm socket to remove spoiler, didn't come off, screws under trim, trim on the inside popped right off on clips(no tools) and the nozzle was accessible.
Opened the front mud flap (two stage plastic clips). Pump is a Trico 11-612 vs 11-618 for the hatchback. Repair dealer had put the wrong one in and plugged the rear line.
Used a hairdrier to heat up. Used a pair of channellock pliers to pull the old pump off of the fluid tank, top first. New pump came with a grommet. Didn't add lube. Put the grommet in first, then pushed the pump in.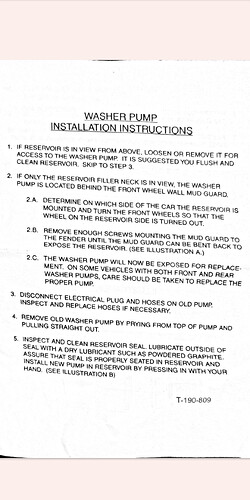 Rear wiper blade
Rubber blade fell apart. Bought a Reflex 12" J-lock wiper, RR12J. To remove the wiper assembly, you have to unsnap the cover over the hinge.
The J-lock was not the correct mount. Trico 12B is the OEM part. However, the rubber blade insert themselves were apparently identical. Removed the old blade insert by pulling it out of the assembly.
The new blade insert was more stiff, and had to remove the metal stiffeners, insert the blade into the old assembly, and then slid the metal stiffeners into the blade through one far end of the assembly.